Ranking Digital Rights at RightsCon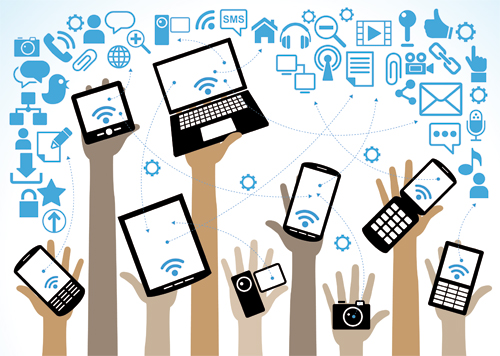 Corporate transparency is essential to building public trust, according to Annette Fergusson, head of Vodafone Group's Sustainable Business unit, who spoke on a panel for the European launch of the Ranking Digital Rights 2017 Corporate Accountability Index at RightsCon in Brussels on March 29.
The event featured Ranking Digital Rights (RDR) project director Rebecca MacKinnon, who was joined by a group of panelists to discuss results of the 2017 Index, which ranked 22 of the world's largest internet, mobile, and telecommunications companies on their disclosed commitments to users' freedom of expression and privacy. Along with Vodafone's Fergusson, panelists included Silvia Grundmann, head of the Media and Internet division at the Council of Europe, Adam Kanzer, managing director of Domini Impact Investments, a socially responsible mutual fund, and Afef Abrougui, a researcher with Beirut-based Social Media Exchange Network (SMEX) and an RDR research affiliate. The session was moderated by Malavika Jayaram, executive director of the Digital Asia Hub, an internet research center based in Hong Kong.
Panelists discussed why companies should be transparent about policies affecting users' freedom of expression and privacy. According to Fergusson, companies need to be transparent in order to gain users' trust: "Without trust, we don't have a social license to operate," she said. Vodafone tied with AT&T for the top spot among the ten telecommunications companies ranked in the 2017 Index. Vodafone earned the highest score among telecommunications companies on the Index's governance indicators, which measure a company's institutionalized commitments to human rights, including to freedom of expression and privacy.
While transparency is essential, companies should also work to ensure that human rights commitments made at the parent level are followed through at all levels of the company, according to Abrougui. Telecommunications companies, for instance, can have different policies, and varying levels of policy disclosure, in the different markets in which they operate, she said.  
Kanzer noted that while there is a difference between measuring company disclosure of their policies and measuring their actual practices, policy transparency is an important first step.
Talking so companies will listen, listening so companies will talk
Also at RightsCon, RDR senior research fellow Nathalie Maréchal led a roundtable discussion called "How to Talk So Companies Will Listen, and Listen So Companies Will Talk: Doing Company Advocacy and Research." The session brought together researchers, advocates, and industry representatives to share best practices for communicating their research or advocacy initiatives to companies.
Participants shared their experiences and strategies for engaging with companies through their work on a variety of projects, including the Fundación Karisma's and Digital Rights Foundation's research evaluating the privacy policies of telecommunications companies in Pakistan, and OpenNet Korea's work with Citizen Lab researching the Korean app "Smart Sheriff." UCLA professor Sarah Roberts also offered insights into her experiences engaging with companies as part of her research on commercial content moderation. Strategies for company engagement depend on the company and political contexts, and can include building long-term relationships with human rights allies within companies, according to participants.
Michael Samway, former Vice President and Deputy General Counsel at Yahoo! Inc. who founded the company's Business and Human Rights Program, noted that trust between advocates and companies is only formed through years of engagement—and that for advocates, it is crucial to have practical solutions in mind before approaching a company.  
Samway, who serves as an RDR advisory board member, was also interviewed at RightsCon for a podcast discussion about evolution of the  broader business and human rights movement, and how advocates and other stakeholders can achieve meaningful engagement with companies.
This year's RightsCon event in Brussels brought together 1,500 participants from 100 countries, according to event organizer Access Now. We look forward to seeing everyone next year at the seventh annual RightsCon conference in Toronto!
for more informations: www.https://rankingdigitalrights.org/